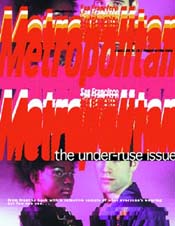 January 3, 2000
Cover: The Under-Ruse Issue
We see ladies, we see France. . . Metropolitan evaluates the bare necessities of the modern age.



Job Interview: The nicest guy to ever ask you tons of question about your sexual history, Tony Buckman does his part to help keep folks healthy and well.
Tara's Advice: Tara calms a serial mom.
Global Fashion: Fashion praise from the globally aware.
One Card Monte: The Cards fix a scalping.
Turn Styles: Hanging out with writer J. David.
Urban Libations: Catching a kiss in a shot glass.



Ice Castles: MAC's newest line is so cold it's blinding.
Concrete Runway: Freddy Kirk at Market and Sanchez.
Style Mavens: Innervoid's intricate moldings offer a new take on body, art and body art.



Rhinoceros Visions: A metro-diary of a work-in-process by filmmaker Jacques Boyreau.
Maternal Instinct: 'All About My Mother' turns out to be about much more.
Film Picks: Reviews of 'Angela's Ashes,' 'Girl, Interrupted' and the San Francisco Indie Fest.



The Moody (Music) Blues: One man's search for the perfect romantic LP.
Music Picks: Reviews of the latest CDs by 100 Watt Smile, Medeski, Martin and Wood and Lee Hazlewood.
Club Guide: Disco divas, hip-hop connoisseurs and salsa suaves to flannel-clad pinball players, jazz luminaries and more.



Pier Pressure: Metropolitan deems Danko 'pier-less.'
Cafe Nationalism: Hegemony and balkanization in society's cafe.



Bedtimes: Linn Ullman chronicles the joy and luck of three generations of Norwegians in 'Before You Sleep.'
Book Picks: Reviews of 'The Best of Temp Slave' and 'Full Exposure.'