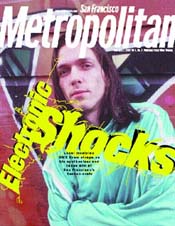 February 7, 2000
Cover: Synth City
DMX Crew is furious about the state of modern music and he's about to put an end to it.



Endless Love: Same holiday, new sensations . . .
Job Interview: Peruvian-born Daniella Lorenz is dedicated to making you look beautiful. But who cares about your beauty? It's worth seeing Daniella just to soak up hers.
Media Mavens: A fresh bolt of Valentine's lightning from the basketball-minded.
Global Fashion: Londoners Murray and Vern up the panties on fetish gear.
One Card Monte: The Tarot helps a speed freak.
Tara's Advice: Ego Deflation.
Urban Libations: St. Valentine's Day Massacre.



Mer Made: Sea-ing is believing with new line of seaweed-based products from Bare Essentials.
Concrete Runway: Primo Solomon at 21st & Valencia.
Style Mavens: Clinique promises sensual satisfaction, but will it still love you tomorrow?



Chamber Music: 'Mr. Death' documents the internationally notorious electric chair trade.
Film Picks: Reviews of the Brainwash Movie Festival, 'Holy Smoke' and 'Titus.'



Breakbeat Science: Goldie's new album, 'The INCredible Sound of Drum 'n' Bass,' looks back at the near past while signaling a move to a post-junglist future.
By the Numbers: Club sensation Erin Hamilton counts how many cover songs she can do.
Music Picks: Reviews of the latest CDs by Jazzy Soul, Turner Brothers Show Band and Sons and Daughters of Lite.
Club Guide: Disco divas, hip-hop connoisseurs and salsa suaves to flannel-clad pinball players, jazz luminaries and more.



Bland Ambition: Minimalist design with minimal innovation at Neo.
Beach Bumming: North Beach blossoms with a new wave of bars and clubs.