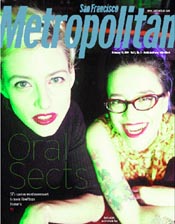 February 15, 1999
Features: Tongues in Chic
Spoken word artists march to a new Beat, reflecting what goes on in SF today--not what was happening 50 years ago to that other generation.
Tara's Advice: Tara's tips on spotting teases.
SFupernatural: SF mystic Ciall Austell channels the artist Miró among others.
1:15: Gossip columnist C. Silo.
Frisco Utopia: Hank Hyena muses about pies on the fly.



Heavenly Hybrid: El Stew's sizzling recipe of old school, hip-hop, electro and drum 'n' bass.
Noise Pop Tip Sheet: Jeff Stark handicaps the Noise Pop lineup.
Music Picks: Reviews of the latest CDs by Amber Asylum and various artists.
Club Guide: Disco divas, hip-hop connoisseurs and salsa suaves to flannel-clad pinball players, jazz luminaries and more.



Mirror Mirror: SF MOMA exhibit holds up a surreal mirror to womanhood.
Urban Retreat: A visit to the day spa.
Miss Pinkie Shears: The debonair miss gives her fashion advice.
Concrete Runway: Dara at Nob Hill.



The Changeling: The Brandon Teena Story examines the tragic end of a Nebraska gender-blender.
Film Picks: Reviews of The General, The Witchmaker a.k.a. The Legend of Witch Hollow and Peeping Tom.



Pop Art: Getting on the bus with Popcorn Theater.



Aw Shucks!: Michael Stabile considers the oyster.



Silicon Suspense: Joe Hutsko, author of The Deal, found that sometimes business imitates art.
Book Picks: Reviews of the latest books by Martin Amis, Laura Kasischke and Chimo.