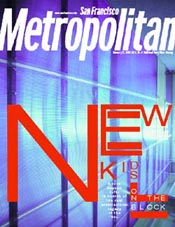 February 21, 2000
Cover: Beyond Live/Work
The architectural fallout of the dotcom decade.



Child's Play: Forget spinning, the hottest way to exercise is... skipping!
Job Interview: Todd Bauer the pastry cook is so fine they had to put him on the SOMA Bare Chest Calendar 2000.
Hoop Dreams: Party down in style with the Golden State Warriors.
Global Fashion: Is personal style possible in the matrix?
One Card Monte: Girlfriend Grief.
Reality Check: Throw that comfy couch away... there's art to be sat on!
Tara's Advice: Writer Blocked.
Urban Libations: The deep, bright whirl of Demeter's Delight pops the buds--and how!



Time Warp: This ain't your mother's facial.
Concrete Runway: Keaka Akahai at Haight and Webster.
Style Mavens: Return of the century mustaches find a home with Ryan and Bryan.



When We Were Kinks: 'Divine Trash' is the ultimate John Waters documentary.
Film Picks: Reviews of 'La Ciudad,' 'The Jaundiced Eye' and 'Judy Berlin.'



Club Guide: Disco divas, hip-hop connoisseurs and salsa suaves to flannel-clad pinball players, jazz luminaries and more.



Pretty Hoisin: Michael Stabile dines in Murray's Glasshouse and doesn't throw stones.



Out of Leftie Field: Jim Grimsley ditches the niche market with 'Comfort and Joy.'
Book Picks: Reviews of 'Eating the Cheshire Cat' and 'Green Eyes, the Greenest Fields.'