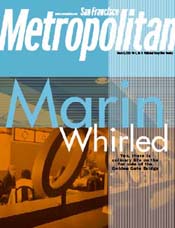 March 6, 2000
Cover: Marin Whirled
Yes, there is culinary life on the far side of the Golden Gate Bridge.



On the Town: Golden Boy laments the sorry state of his tarnished checking account.
Paperoni: Stage caricaturist Ennio Marchetto and his cutouts send up all manner of celebrity.
Job Interview: The soul of graciousness, the elegant Jessica Clark decants both wine and wisdom.
One Card Monte: Gym Dandy?
Friday Nights: Our newest social butterfly dates a potted-Ivy pizza boy.
Tara's Advice: Genie with a Bottle.
Urban Libations: Forget Elián, let's free the mojito!
Fashion Forward: Stop pinching those cheeks--there's an easier way to get this season's staple.
Wax on, Wax off: Beauty takes a trip to Brazil.
Concrete Runway: Olivia Christine Ferucci at 71 Haight.
Lisa Says: Teensy electric T-shirts reel in the glitter years.



Film Festival Ping-Pong: Metropolitan cans Cannes and heads to Rotterdam and Sundance instead.
Film Picks: Reviews of 'A Moment of Innocence/The Silence,' 'Orphans' and the Columbia Pictures' 76th Anniversary celebration.



Sugar Sacked: Takako Minekawa hits the downbeat with 'Fun 9.'
Music Picks: Reviews of new CDs by D'Angelo and TAM!, and the 'Magnolia' soundtrack.
Club Guide: Disco divas, hip-hop connoisseurs and salsa suaves to flannel-clad pinball players, jazz luminaries and more.



Suspect Devices: 'Explosive Acts' paints a potent portrait of an absinthian art world.
Book Picks: Reviews of 'Altar Ego' and 'Johnny Panic and the Bible of Dreams.'



Multi Medea: Working Women Festival IV issues more gynophilic delights.