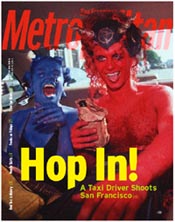 March 1998
Features: Tales From a Taxi
The Metropolitan writers and photographer/taxi driver Greg Roden chronicle life in San Francisco cabs.
Gold Medals: Medallion owners have a ticket to drive, not a free ride.
Taxi Rides: Tales of cab drivers from the rear view.
Ten-Hour Days: Drivers peg fares before they climb in the back seat.
Sins of Our Passengers: Sometimes you don't want to know what goes on back there.
Blow by Blow: The social mores of oral sex.
Millie's Map: Millie goes for a ride on the new E-train shuttle.
Job Interview: An interrogation with robbery inspector Michael Maloney.



Men in Dresses: Skirting the issue of sexy male apparel.
Males Do Nails: More straight guys are getting into colored nail polish.
Revolutionary Style: MAC (Modern Appeal Clothing) dresses the new avant-garde.
Concrete Runway: Coran Beck at Gough and Hayes streets.
Cash Cabs: Taxis top the advertising heap.



Deep-sea Diva: Latina comedian Marga Gomez shares the screen with Sharon Stone in Sphere.
Gun Points: Film director John Sayles talks about the making of Men With Guns.



Blind Fury: Third Eye Blind's Stephan Jenkins has a bone to pick with everyone.
Freaks on Fridays: When the jeans-and-T-shirt crowd gets funky with Marilyn Manson imitators and drag queens, it's cause for celebration.
Club Guide: A week's worth of hot, gay-friendly clubbing.



Deadly Dessert: Fleur de Lys' coconut pineapple meringue cream cake is more than just lean cuisine.



Past, Present & Future: Theatre Artaud's veteran choreographer Duncan Macfarland embarks on a tour of the early Middle Ages.
Cold Discomfort: David Mauriello's insipid drama Come in From the Rain makes El Niño seem like a wet dream.