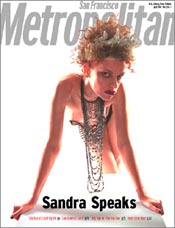 April 1998
Features: Sandra Takes On
Sandra Bernhard is still as vitriolic as ever.
Cover and inside photographs by Dah-Len, whose shots of Sandra Bernhard appeared in the January 1998 issue of Paper Magazine in New York.
Millie's Map: Beachcombing the 'burbs of SF.
Job Interview: Getting more than a fresh coat of shoe polish from Dwayne Fields.



Everything Old is New Again: No holes, no rips, no stains at the high-end vintage boutique Ver Unica.
Hard-core Hair: Victoria Thomas Gentry sets out to radically change the beauty industry's Barbie doll image from within.
Miss Pinky Shears: The debonair miss introduces her fashion advice column.
Concrete Runway: Boulder at the Castro Muni station.



Full of Himself: The big ego behind Michael Moore's film The Big One.
Bedside Manner: Social reformer and ex-hooker Margo St. James on sex and the film Dangerous Beauty.



Madonna of Creation: Ray of Light illuminates Madonna's new sentimentalism.
No Spectators Allowed: The creativity at Anon Salon is very much the Burning Man aesthetic of hands-on participation.
Club Guide: A week's worth of hot, gay-friendly clubbing.



Cooked-up Cuisine: Absinthe's just-plain-folks fare is so simple it's almost gimmicky.
Stood Up at the Redwood Room: An unplanned sojourn in a place of glamor, mystery and style.
Starbucks Starter Kit: Rating the city's corporate coffee shacks.



The Liberace of Psychics: Psychic Walter Mercado's book Beyond the Horizon downplays the flamboyance that makes him a marketer's dream.
Fellowship of the Ring: Author Jim Houston meets the people of the Pacific Basin.