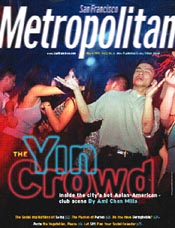 May 4-17, 1998
Features: Club Mix
Young, hip Asian Americans are making a scene. Plus, gay Asian clubs in the city.
Pier 45, Shed B: Fisherman's Wharf--where the ocean ends and civilization begins.
Real Art: For cutting-edge art, just head to the nearest telephone pole.
Millie's Map: Millie stares at the massive cranes and realizes that life is just as uncertain, risky and beautiful.
Job Interview: The man who started MTV now heads up the largest online service in the world.
Read2Win: A contest of reading comprehension.



Purse Proud: Local designers get caught holding the bags--everything from elegant evening purses to practical cotton satchels.
Bag Lady: Designer Sharon Dunham rides a wave of innovative signature handbags.
What's Your Bag?: Your bag is not an extension of your wardrobe--it is your wardrobe.
Germ Warfare: Do you know where your hands have been?
Miss Pinkie Shears: The debonair miss gives her fashion advice.
Concrete Runway: Cara Cordoni and Vrañas at La Bodega.



MadCatting Around: San Francisco's festival of edgy modern women's films also showcases a movie by '60s pre-feminist Doris Wishman.
Faux Feminist: Bad Girls go to MadCat festival.
All Snap, No Plot : The Spanish Prisoner lies flat on David Mamet's pages.



Jungle Love: The jungle music at Eklektic, a weekly drum and bass party, is fast, funky and raw.
Good Vibrations: Why new pop bands can't top the Beatles and the Beach Boys.
Club Guide: A week's worth of hot night-clubbing.



Eat Italy: Eight Italian restaurants in the Mission.



Dance Fever: Subculture anthropologist V. Vale celebrates a fresh old aesthetic in Swing: The New Retro Renaissance.
Book Picks: Brief reviews of The Antelope Wife, Remote Feed, Hail Babylon and Blue Bossa.



Circus Circus: Popcorn's on the street with circus sideshows and freaks.