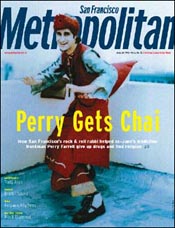 June 29-July 12, 1998
Features:
Wisdom From Above
Notorious Lollapalooza bad-boy Perry Farrell finds inspiration from the rock & roll rabbi.
Wharf Watch: Turbo ride, baby.
Millie's Map: Millie discovers disco's Mecca.
Job Interview: Ever wonder what it's like to sell porn?
Tara's Advice: Getting caught cheating.



Home Grown: The latest in hemp-based body care.
Miss Pinkie Shears: The debonair miss gives her fashion advice.
Concrete Runway: Jenn Sunflower-Fish at 16th and Valencia.
Real Art: Unflattering imitations of corporate ads.
Adverteasing: Fashion ads venture into the Bi-Files.



Wise Fool: An interview with James Urbaniak, star of Hal Hartley's indie epic, Henry Fool.
Movie Madness: Quirky Brainwash Movies Festival showcases over 50 short films and videos.



Blagging and Boasting: Massive Attack, Tricky and the Bristol Sound.
Spin Cycle: Going for Baroque with Black Diamond.
Poly Rhythms: San Francisco DJ Polywog talks about her long, strange trip from Juilliard to Lollapalooza.
Club Guide: A week's worth of hot night-clubbing.



Culinary Confusion: What's the difference between Firewood, Firefly and Flytrap?



Fame Drain: Dirt and drivel in celebrities' kids memoirs.