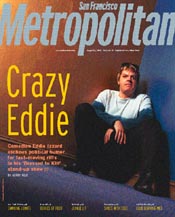 August 24-September 6, 1998
Features: The Izzard Man
An interview with Britain's stand-up comedian Eddie Izzard.
Scene That: Millie gets spiritual at Radiant Light Ministry's healing circle.
Job Interview: An interview with a sushi-making activist.
Tara's Advice: Tara on making babies.



Empowering Inferno: The Burning Man festival faces two possible fates--it could end up as Club Burning Med or as an invitation-only party.
We Love TV: And now, a few words about the fall TV season.
Real Art: MASS if you're CRITICAL.
Lingerie for the Lips: Chanel revamps drop-dead red.
Miss Pinkie Shears: The debonair miss gives her fashion advice.
Concrete Runway: Raven Bourassa at Mad Magda's Russian Tea Room.



Flogging the Dummies: Neil LaBute's second film, Your Friends and Neighbors, is even uglier than his first.
Film Picks: Brief reviews of Gadjo Dilo, Safe Men and Touch Of Evil.



Blended Genre: Eighty Mile Beach members Beth Custer and Christian Jones pride themselves on being a band without a specific niche.
Club Guide: A week's worth of hot night-clubbing.



Imaginative Fare: Oodles of surprises and food at Oodles.
Smoke 'Em If You've Got 'Em: Places in SF where you can still smoke.



The Language of Addiction: Junkie literature is about heroin first, characters later.
Book Picks: Brief reviews of Preacher's Lake and Taming It Down.