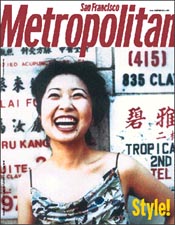 September 7-20, 1998
Features: S.F. Fashions
On the street with real people and the fall fashions of San Francisco's designers.
Scene That: Millie chats with a 'Sid-Vicious' Super Shuttle driver.
Job Interview: Reading between the lines with the newspaper man.
Tara's Advice: Tara on affirmations.
Get Smart: A glimpse of fame at The Learning Annex.



A Cozy Mix: Sweaters are the quintessence of form and function.
Off the Cuff: What's with the capri pant and cuffs craze?
Miss Pinkie Shears: The debonair miss gives her fashion advice.
Real Art: Fags are artistic, and homophobes have a strong work ethic.



Fringe Binge: Artistic anarchy at the San Francisco Fringe Festival.
Genealogies of a Crime: A Fringe Fest artist looks for San Francisco solace after her role in a notorious murder case.
Making a Killing in Comedy: Killing My Lobster duo Marc Vogl and Paul Charney produce shows with manic vignettes that are alternately deadpan and screwball.



True Confessions: The Fray is a Web site full of personal narratives, but its stories aren't just the random spewing of wired neurotics.
Book Picks: Brief reviews of The Revisionist and Stigmata.



Gender Con-'fusion': asia sf's ladies-in-waiting dish out Cal-Asian goodies.



Music Picks: Brief reviews of the latest CDs by Lewis Parker and various artists.
Top of the World: High society and Indulgence at the Starlight Room.
Club Guide: A week's worth of hot night-clubbing.



Heartbreak Chowder: Next Stop Wonderland director Brad Anderson does for Beantown cinema what Woody Allen did for the Big Apple in film.
Film Picks: Brief reviews of Pecker, Simon Birch and Rounders.