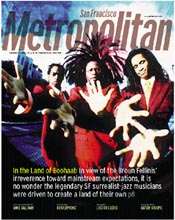 September 21-October 4, 1998
Features: Broun Sound
The legendary SF surrealist-jazz trio, the Broun Fellinis, may be about to explode out of the underground.
Scene That: Millie gets the scoop on what the Clown School of San Francisco is really all about.
Job Interview: Slinging the bull with a butcheress at Enrico's Meat Market.
Tara's Advice: Tara on dented digits.
Border Patrol: Interview with a transplant to SF.
Superstar Sex: How do the stars view superstar sex?



Labor of Love: In-city fun instead of Burning Man sun.
Art Extract: SAP, the new alternative art fair, spotlights local talent and hits the big time.
SF 'Expo'-sed: The San Francisco International Art Expo puts the city on the art map.
Gatsby Groupies: Art Deco stars are a bevy of snooty beauties.
Hard Wear: Hard-core wrist watches for men.
Burning Down the House: The aroma of candles as therapy.
Miss Pinkie Shears: The debonair miss gives her fashion advice.
Concrete Runway: Kelly Defayette at the Civic Center.



A Place in the World: Linda Watanabe McFerrin's quirky and charming Namako: Sea Cucumber.
Book Picks: Brief reviews of Basquiat: A Quick Killing In Art, Half and Half and Show World.



Get Down On It: R&B, jazz and funk singer Ledisi, along with her band Anibade, knows how to move a crowd.
Milking the Hypnotic: The surreal sonic-scapes on Hooverphonic's new album, Blue Wonder Power Milk.
Music Picks: Brief reviews of the latest CDs by DJ Spooky, The Murmurs and Pansy Division.
Club Guide: A week's worth of DJs, tranny chasers, jazz heads, hip-hop connoisseurs and more.



Dining Q & A: Paul Adams answers readers' eating questions.
Classic Cheese Fondue: A recipe for people who can't get enough cheese.



The Kings of High Concept: Six-String Samurai is a campy, rock & roll, kung-fu fairy tale that pokes fun at cultural pop icons.
Film Picks: Brief reviews of Freeway, The Naked Kiss, James Ellroy: Demon Dog of American Crime Fiction and a Mitchell Leisen tribute.