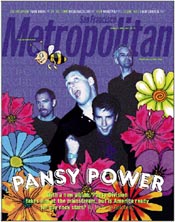 October 5-18, 1998
Features: Queer to the Core
Is America ready for gay rock stars? Pansy Division is definitely ready for America.
Scene That: Millie's in the trenches with the folks at Paintball Jungle.
Tara's Advice: Tara gives advice to an emotionally disturbed teenager.
Job Interview: Life as ringmaster of would-be rock stars at The Mint Karaoke Lounge.
Border Patrol: Interview with a transplant to SF.
Wonderfully Warm Movies: Some words on fall's big-screen re-releases.



Grand Showcase: North Beach's best-kept secret is a showcase for local designers.
What's in Store: Deciphering fall beauty trends.
Miss Pinkie Shears: The debonair miss gives her fashion advice.
Concrete Runway: 22 Fillmore Bus Stop @ Safeway.



Pussy Power: Eve Ensler talks about her Vagina Monologues.
Book Picks: Reviews of Floating, Generation Ecstasy and Staying Under.



Melody Lane: Tin Hat Trio's instrumental blend creates its own musical genre.
Future Perfect: Ecstatic, futuristic overstimulation at Projexpo 98.
Music Picks: Reviews of the latest CDs by DJ Chip McClure, pc muñoz and Rialto.
Club Guide: A week's worth of DJs, tranny chasers, jazz heads, hip-hop connoisseurs and more.



Avant Opera: Where to eat before the show.
Hungry at the Opera: Where to eat after the show.



Brooding Billiards: Richard von Busack on SF filmmaker Rob Nilsson's murky pulp fiction in Chalk.
Film Picks: Reviews of The Lady From Shanghai and the Universal Horrors retrospective.



Orchestra and Balcony: San Francisco Opera reaches out to the young and affluent with Bravo! Club.
A Three-Penny Opera?: Budget your culture and save the money for pâté.
Dancing Queen: Dancer, producer, activist and organizer Krissy Keefer launches a new theatrical venue at Dance Mission.