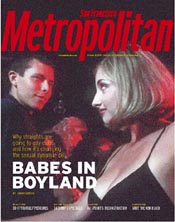 October 19-November 1, 1998
Features: Straights Astray
Do straight guys really go to gay clubs to find available women?
Scene That: Millie takes a Sunday to house hunt.
Tara's Advice: Tara talks to Salvation Arnie.
Job Interview: An interview with a fantasy maker.
Border Patrol: Interview with a transplant to SF.
SFupernatural: Something smells weird at a gym.



Mail Order Madness: Campy, goofy fun with the Mail Order Brides.
Fancy Footwork: Spa-quality items to treat your feet.
Wrap It Up: A wide world of fashion is only a click and drag away.
Miss Pinkie Shears: The debonair miss gives her fashion advice.
Concrete Runway: Topher Lewis on the street.
Adverteasing: TV isn't the only thing bad for you.



Local Luminaries: Bay Area bands and musicians provide the San Francisco Jazz Festival with much of its texture.
Brain Teaser: DJ Spooky's deconstruction.
Society of the Spectacle: Michelle Goldberg discovers a different, darker scene at a Saturn9 party than is usually found in San Francisco.
Music Picks: Reviews of the latest CDs by Grooverider, Stereolab and various artists.
Club Guide: DJs, tranny chasers, jazz heads, local beatpalayas, hip-hop connoisseurs and more.



Who's Afraid of Bad Manners?: Academic couples trade barbs in David Gilman's take on Edward Albee.
Film Picks: Reviews of Antz, Halloween Noir and Universal Horrors.



Trick or Eat?: Watching the festivities without having to beg for food.



Dirty Rotten Scotsman: The author of Trainspotting looks at Edinburgh's seamy side from the other side of the tracks.
Book Picks: Reviews of Friendly Fire, Girl Walking Backwards and Like Never Before.