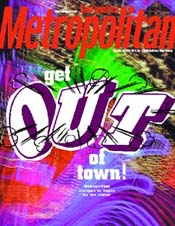 January 24, 2000
Cover: Sin City
Veni, Vidi, Vici... Metropolitan takes on Las Vegas.



Grass Root Politics: Smoke 'em if you got 'em? The changing politics of pot.
Job Interview: With the deft intuitive touch of a psychologist, personal trainer Jose-Luis Wilson helps you maximize your potential.
Tara's Advice: Tara solves a mystery.
Global Fashion: Viktor & Rolf are mad as hell and they're not going to wear it any more.
One Card Monte: High-Strung Out?
Turn Styles: Looking eastward, going westward.
Urban Libations: Hot grog warms up winter.



A Bronze Tale: Bottle bronzed with BeneFit.
Concrete Runway: Laura Matis at Haight and Clayton.
Style Mavens: Upgrade your style with L'anza's new 'Ctrl' line.



The Journalist and the Director: Director Chen Kaige on the art of war epics.
With a Different Meaning: A French and arty film you should see, if you like that sort of thing.
Film Picks: Reviews of 'A Map of the World,' 'The Big Tease' and the Marcello Mastroianni Retrospective.



Buy Pola: Sullivan Bianco rates the top obscure French import album of the year. And it's still only January.
Music Picks: Reviews of the latest CDs by Jesus Lizard, Sex 66 and Magnetic Fields.
Club Guide: Disco divas, hip-hop connoisseurs and salsa suaves to flannel-clad pinball players, jazz luminaries and more.



Missed Manners: Christina Waters reams the reader and sends him to bed without dinner.



Squat or Rot! 'No Trespassing' encourages squatters to help themselves to housing.
Book Picks: Reviews of 'Super Casino: Inside the 'New' Las Vegas' and 'A Love Supreme.'