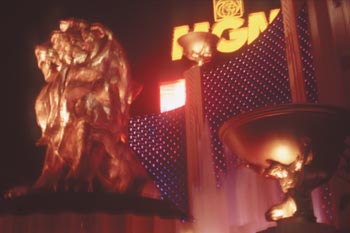 Nothing To Lose
An escape to the new new Vegas proves the perfect cure for winter blues--and it's all ours
By Tracie Broom
Vegas, Vegas. Land of broken dreams, cracked wallets, chapped lips, drunken nights and acrid casino carpets. Nomi Malone's house of the rising sun, Elvis' spangled launch pad, the place where a sudden million seems closer than anywhere else in the world. Yeah, yeah, yeah. Vegas draws the greedy dreamers out from their suburban hovels for long, wasted weekends of bad behavior, evenings planned by someone's new girlfriend and her gaggle of froufie chicas ready to let it loose after a steak dinner and a few whiskey sours. Thus has been the Vegas of the '70s and '80s, a chumpy dereliction of taste geared toward middle-class families--a far cry from the glamorous days when the Mafia was cool and the Rat Pack downed martinis and chomped cigars in high-stakes rooms.
If the emblem of Vegas' first incarnation was the Dionysian Dean "Don't give a fuck" Martin, the early '90s belong to Walt Disney and his world. By then, the southern part of the strip had become an architectural and conceptual wrestling mat. In 1989, no new casino had been built for 16 years. The fork between glamour and gutteral was paved then, when Steve Wynn opened the Mirage and the Circus Circus company countered with the Excalibur. The Mirage was unparalleled in its lavish facade; its magic, blowdried stable boys from Bremen, Siegfried and Roy, marked a challenge. The Excalibur, on the other hand, beckoned to the already conscious mini-van crowd, its restaurant "Lance-a-lotta Pasta" epitomizing the limits to how far into the grass roots a supercasino could go. Then the battle really started: Wynn countered in 1993 with Treasure Island and its live pirate show. That year, Circus Circus, not to be outdone, introduced Luxor, the ultimate contradiction: a space-age pyramid that shot a beam of light 10 miles into the sky. Nothing catches the high-low hyperreality of Vegas better.

After-smash: Things to do in Vegas when you're 'dead.'
Christmas In Hell: Harmon Leon spends the holy day in Sin City.
Homes Away From Home: Hotel and restaurant recommendations.

Now that the wave of mega-resorts has hit the sparkling desert town just west of the Hoover Dam, there's a new era of indulgence afoot, and the town looks spanking new, fitted with piles of amenities. You thought that Caesar's, the Mirage and the Monte Carlo were fancy--take a look at the Bellagio, the Venetian, the Rio, Mandalay Bay and the Hard Rock Hotel. Have you been in a high-stakes room in one of these casinos recently? There are men in tuxedos ready and willing to win or lose to the tune of $50,000, just so there's a cold bottle of Perrier and a good dealer at the ready (none of them drink, we've noticed).
Now that there are enough of these guys to go around again (ah, the American economy!), casino-builders have taken the cue and created giant palaces of pampering to lure the big shots from points Asian and American. And you know who benefits from all of this? We do, the young and the restless. No kids and plenty of disposable income. The new Vegas is fancy enough for our wicked good taste; we're going to go every chance we can get and pretend that we are masters of the universe.
God Bless Vegas, once and for all, because now it's ours. We're twentysomethings, thirtysomethings, fortysomethings and fabulous and there's no better place to party down in the whole wide world. Or so you say once you're stark-raving drunk on tequila shots and illicit drugs in your weekend-rented hotel room on the Strip.
Even high-end chain hotels like the Ritz-Carlton can't compete with the phenomenal service in Vegas. Service-industry folks in Vegas are quick and polite, not only because they seem to be nice, wholesome people, but also because they are paid well. Thus, they will kiss up without hesitation--and for the record, after a long week of toiling it up in the big city (or the small town, for that matter), it feels damn good to be pampered by a bunch of desert denizens.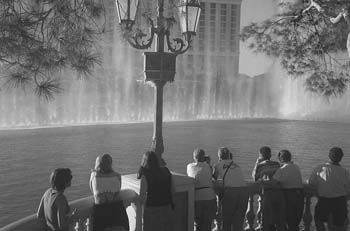 Letterman, Eat Your Heart Out: Dancing waters like you've never seen erupt with Old Faithful-like regularity in this most sopping of desert towns.
Detractors may claim that Vegas' attitude is excessive. But how can a city based on a swindle be too much? When you look at it, Vegas is really as sorry as it ever was. It's just that now the place looks classy with its transposed icons and reverent simulacra. (Hello, an Eiffel Tower?) With the glitter-gulch gimmicks on the quick and recent remove, the town has ushered in a new era of surface luxury. As rents rise in San Francisco and Los Angeles, Vegas is more than happy to cater to Pacific arrivistes.
Take the Venetian. It's a whole new world, bred and buttered for the conventioneer and the tony traveler, not the drunkard from Barstow. The hotel and casino are designed so that you don't actually have to walk through a maze of slots and tables to get out onto the Strip. It's a new reich for the riche, something long missing from the formulaic casinos of the last two decades.
One wonders what the star chefs do after hours, all of them assembled in one tiny town within two miles of one another. Does Emeril play craps with Mike Mina? Does Jean-Louis go to the Cheetah with Wolfgang? Probably not, with all of the work they have to do to get their venues up to par with the rest of the restaurant world.
But for all of Vegas' new emphasis on haute cuisine, there's still work to be done. Lunch at Stephen Pyles' Star Canyon at the Venetian: supposedly haute Southwestern cuisine. Reality: tasty but somewhat pedestrian use of fine ingredients. Beautiful root-vegetable soups and savory chicken quesadillas are a misleading cue to entrees that satisfy without stunning. The steak with wild mushroom/bean ragout, if not stellar, certainly warms one's bones. The ample wine list was done a disservice by poorly trained waiters who referred to a Saintsbury Pinot as Sandsburg Pinot. Diagnosis? Las Vegas, as badly as it wants to be SF, LA or NY on the food circuit, won't be there for some time with a work force most recently accustomed to serving prime rib and mashed potatoes with white zinfandel. Perhaps in a few years, the service and selection will compete with world-class cuisine. Until then, we may just continue to gorge on crab legs and drawn butter at the 10-buck buffet.
[ San Francisco | MetroActive Central | Archives ]