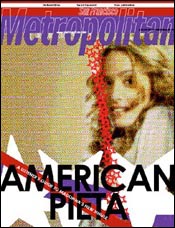 April 3, 2000
Cover: Throwing 'Pie'
Madonna's 'American Pie' and the day her music died.



Techsploitation: Beyond the Valley of the Silicon.
Digimonde: Fliptomania's flip books are a 10-second thrill.
Job Interview: Art department manager Goose Ramirez pushes the envelope and keeps the troops smiling over at Mondomedia.
One Card Monte: Tryst of Fate.
Friday Nights: Mr. Right On.
Tara's Advice: Tara leaves for greedier pastures.
Urban Libations: The oft-maligned Tequiza offers a new boost for your buck.
Virtual Decadence: The Diva meets the International Man of Mystery.
Crémè Fresh: Sothys' skin care is peaches and cream without the calories.
Concrete Runway: Leo Don Walker III at Haight & Ashbury.
Laser Lightening: The latest advances in cosmetic dentistry are positively blinding.



The Sixties Sense: 'Waking the Dead' is an unusual political ghost story.
Film Picks: Reviews of 'American Psycho,' 'Megacities' and 'Rules of Engagement.'



Dedicated to the Groove: After 10 years, Ubiquity Records is finally everywhere.
Music Picks: Reviews of new CDs by the Pet Shop Boys, Madonna and Nilsson.
Club Guide: Disco divas, hip-hop connoisseurs and salsa suaves to flannel-clad pinball players, jazz luminaries and more.



Flower Power: Nasturtium's arrival recalls the rite of spring.
Zany ZinZanni: Teatro ZinZanni performs culinary feats that defy gravity.



Undiscovery: Artificial artifacts comprise 'Jumbo's Hide, Elvis' Ride and the Tooth of Buddha.'
Book Picks: Reviews of 'The Unburied' and 'Print the Legend: The Life and Times of John Ford.'