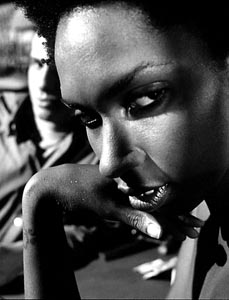 Fashion Regime
Gearing up for getting some
By Cory Feldman
Photographs by Jacques Boyreau
It's springtime and the fever's a-rising. Birds sing and eyelashes bat.
Then the reality sets in. Spring in San Francisco still seethes with romance, but it takes more than a little sunshine to answer the call. Landing a crush is hard enough, but trying to figure out what to do once you succeed is nigh impossible.
Clichés aside, being yourself goes a long way. If you're looking to go all the way, however, extra measures rather than extra measurements are in order. Acting natural doesn't preclude looking good and being charming. It's what's inside that counts, but how can anyone tell how wonderful you are if they can't tear past that wrinkled faded plaid shirt or those daft capri pants?
First Gear: Back that ass up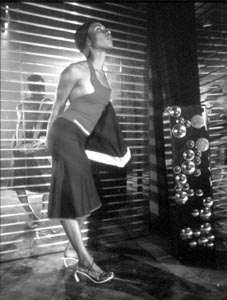 On the first date, clothes are more than crucial. Your date, knowing the pressure's on, has both eyes peeled. Sluts should wrap less saran; stiffs should skip their ties. Something comfortable and appropriate speaks to taste and character. It's time to invest in a pair of sexy jeans. For women, it's a pain in the ass to find jeans that make theirs look good. That's why denim companies charge an arm and a leg for ones that upholster just right. Earl, especially Earl stretch jeans, produces the ideal tight-round-bottom shape. They ride low, flair subtly, and come in deep blue denim.
Though it's a tough bullet to bite for those not accustomed to shelling for jeans. Bite it.
Shell it out to companies like Diesel and Lucky. Expensive jeans say you're fashion-informed and spend some cash on your bad self.
Boys, listen and hear. Jeans shouldn't be faded or left over from college. They should fit comfortably, and be straight-legged, pleatless and expensive. When it's time to launder $100 jeans, turn them inside out so they don't fade. And men should--at least with their pants--wash cold to avoid shrinkage; women should wash warm to encourage it.
Compensate for selling out to the denim companies' trite hard sell in the rest of the wardrobe. Top off a tight thrift-store or guayabera shirt. Dig up a sleeveless sweater or fitted, faded T-shirt (sans college logo). With your bottom in effect, what's on top is moot.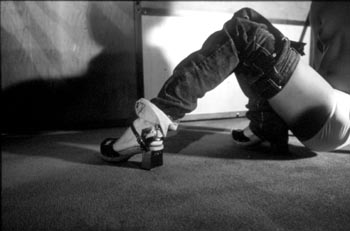 Second Gear: Hooking up on hold
The second date can be more nerve-racking than the first. Attraction is not always reciprocal, but it isn't too late to change that. Steer conversation toward your well-adjustedness. Be open but not overly honest. Leave the baggage packed. Even if your socks have been knocked, play it cool. Anyone praiseworthy already gets lots of praise.
Wear something that feels good, looks good, but isn't whimpering for attention. In case the date carries on into the wee small hours bring a sweater. A long skirt is versatile and sophisticated; pairing with a short T-shirt will tone it down in a sexy, practical way.
When the weather turns warm and it's time for men to show off those underdeveloped biceps and ash-white legs, the best thing to do is hide them. Long-sleeved lightweight shirts unemblazoned with company (or alma mater) names are an understatement that speaks volumes. (If wearing shorts at night sounds appealing, it may be too late for you.)
By now there should be a pair of nice jeans in the closet. Wear them, even if it's for two dates in a row, and get your C-note's worth.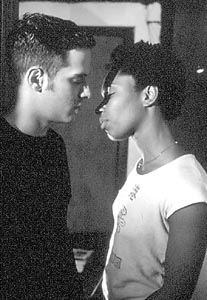 Women who work out have a right to show their arms. Women who don't have just as much a right. Why hide? If they're worth it, they'll soon see it all anyway.
There is a double standard for men and women and muscles.
Tough.
When it comes to end-of-the-night awkwardness, things can get a little touchy, and how. Jumping on your date might be tempting, but don't blow your top, baby. Let the person get to know you first. Why buy the cow when you can get milked for free?
The second-date sleepover only spawns conflict. Just because you like your date enough to spend the night doesn't guarantee your date will like you enough to come again. Sometimes the seconds are sloppier depending on how much liquor is present. A safe plan: don't sleep over. The second date is too soon. Even being prepared seems contrived.
Instead, show interest by initiating the next date right there on the stoop. "Let's do something tomorrow night." A stall either means your date doesn't like you or is trying to play it cool (read: isn't sure).
If your enthusiasm is mutual, not only will plans be made on the spot; it will be seen as a relief and a compliment.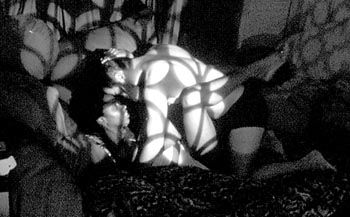 Third Gear: Rub me the right way
Date three is the best of all. If you haven't put out yet, there will be an air of suspense. Because it's reasonable to expect some action, what you wear over matters less than what's underneath. Victoria's Secret froufrou is as heavy-handed as popping Prince in the CD player. Instead wear something nice, not nymphish. Let your date have you, not some version of what you think somebody wants. Conservatively cut underwear in soft nylon looks charming and can save some shaving. Forget the bra that shucks cleavage out of you. And for men, quit sucking in the beer paunch or apologizing for the built-in vest of hair.
This doesn't mean that appropriate grooming measures shouldn't be taken. Shave places that have stubble and trim places where hair gets in the way.
Third-date makeup may be slept in, smudged, or seen real close. Leave it in the bottle. So what if there are bumps and lines, scars and capillaries? No one will care ... if you're naked.
When it comes to that first hook-up, proceed with caution. Fumbling is endearing and small errors will be forgiven. But malodor is inexcusable. Powder and fragrance are heavy and taste bad. Good soap (Lever), a close shave and nice lotion (Kiehls) will keep you soft and smelling natural, not feral.
The most important thing is to appreciate the person in your bed. Not just getting off (that can be the second most important thing) but getting together. That's why it's necessary to use the first time to figure out what the other person is into. Remember that this is an individual with an individual set of spots and rhythms. Don't try to play it like you know what's up. You can't.
The rules of dating are like the rules of fashion--ad hoc guidelines used to sell books and clothes. In a market dizzy with products and styles, it's easy to get fed up with hunting down good, useful clothing. When it comes to dating, the M.O. should be rooted in caring about each other's experience and desire. Don't take advice, take action.
Where To Get The Goods
Sharlene's Second-Date Outfit:
Hong Kong Shirt: Thrift Shop
Angora sweater: French Connection; available at Ovations, 2124 Chestnut St.
Long Skirt: Urban Outfitters, 80 Powell St., 989.1515
Sneakers: Adidas
Undies:
On Her: Gap
On Him: Diesel
Custom-Made Shoes:
Mapuche, 500 Laguna, 551.0725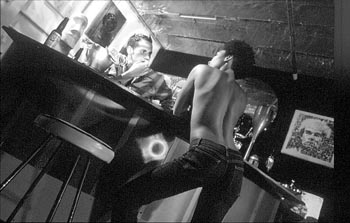 Overpriced Jeans:
Earl Jeans
www.earljean.com
AB FITS, 1519 Grant (at Union), 982.5726
ROLO, 25 Stockton (between Ellis and O'Farrell), 989.7656
Diesel Jeans:
Diesel, 101 Post St., 982.7077
Lucky Brand Jeans:
www.luckybrandjeans.com
Lucky, San Francisco Center, 865 Market
Lucky Chestnut Street, 2301 Chestnut St.
Ideal Grooming Products:
Kiehls available online at www.Beautystore.com
[ San Francisco | MetroActive Central | Archives ]