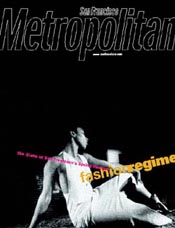 April 17, 2000
Cover: Fashion Regime
Gearing up for getting some.
You've Come A Long Way, Baby! A century of fashion innovation, novelty and faux pas.
Couture Club: Ripping San Francisco fashion to shreds.



Work: Women like me exist.
Haute Risk: Clothes that give new meaning to the phrase 'to die for.'
Vive La Guerre! Not your father's military surplus uniform.
Deviant Behavior: Liquid Latex--fashion that sticks to your ribs.
Gothagon: Summoning South of Market's inevitable Caligari.
Global Fashion: Forget the Avon Lady, go for trash!
Caught in the Web: Keyword: Bitch.
Pucker Up: With this selection of lipsticks, you can put your money where your mouth is.
Urban Libations: Laphroaig distiller Iain Henderson waits 12 years to souse you.
Virtual Decadence: The Diva plunges into a wholesome experience.
Concrete Runway: Pamela Blue at 16th & King.



International House: The San Francisco International Film Festival's back, and scarier than ever.
Degrees of Obsession: San Francisco International Film Festival programmer Peter Scarlet makes work more than a four-letter word.



Hack or Pop Genius? Getting squishy with the legend, Ryuichi Sakamoto.
Music Picks: Reviews of new CDs by the MC5, Trinity and Cat Power.
Club Guide: Disco divas, hip-hop connoisseurs and salsa suaves to flannel-clad pinball players, jazz luminaries and more.



Bipolar Disorder: Gordon's hits the high and low notes with equal aplomb.



Bit of a Come-on: Hitting the sheets with a safe new anthology, 'Getting It On.'
Book Picks: Reviews of 'Miss Wyoming' and 'Survivor.'