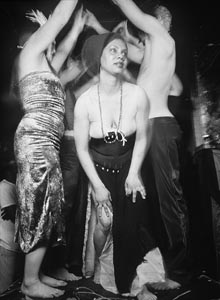 Couture Club
Ripping San Francisco fashion to shreds
By Alyssa Nitchun
Something insidious lurks in the fabric of San Francisco fashion. It's called boredom. Attribute it to a post-2000 malaise (some call this the nothing decade, as in 00=nothing), or to the trust-fund trend that lets anyone with a bank account, needle, thread and fabric exhibit a line at Boutique Blah Blah Blah. Or maybe it's just dumbed-down minimalism. Ladies and gentlemen, please, minimalism does not mean dull, ho-hum fashion. It is a skill. Where did these so-called designers go to school, and who was teaching them? Either design school sucks the inspiration out of people, or too many are going at it without formal training and falling back on designs learned in eighth-grade Home Economics. Either way, I'm left with tiresome clothes.
In the spirit of this nothing-new trend, the latest bourgeois phenomenon is the middle-brow fashion soiree, where haute couture meets street life and fashion mavens with limited budgets can feel like they're living large. These haughty fashion soirees are the designers' and boutiques' upwardly mobile attempt to lure in common people and convince them they're getting in on the next best thing. They serve wine, gourmet cheese and other enticing finger foods, getting potential victims, er, customers, a little drunk and bloated before robbing them of their money.
The third Wednesday of every month, the A Motion Studio design team opens up its digs (440 Brannan St.) to the public from 5 to 11pm. At first I thought, "I can't miss it. A martini mixer for the fashion-hungry!" But the only hunger is found in the long line for free Brie. A Motion Studio initially seems like a hip and happening fashion smorgasbord, but a quick look around finds it crowded with wannabe avants consuming clothes more Seventeen magazine than Visionaire. A Motion's racks are crammed with last, last, last season's items--front-clasp backpacks, cargo-pocket skirts and pants, and other nice, boring, articles that look like they're from a JC Penney shopping spree. At least A Motion is refreshingly cheap, which almost makes it a worthwhile stopover.
The next fashion disappointment is Behind the Post Office, San Francisco's new small-scale designer haven. Behind the Post Office's Trunk Shows take place during store hours so curious Haight Street wanderers can pop their trend-sniffing noses inside and check out all the new, um, fashions. Behind the Post Office is more Gap than Gucci--a stilted, wearisome attempt at Prada-izing the Abercrombie & Fitch deserters. None of these indie fashionistas has designed anything remotely stimulating. Apparently they believe the ability to sew Vogue Easy Patterns equates with a calling to fashion design.
In theory, Behind the Post Office should be a fashion lifeline--a small shop that supports and showcases fresh talent is always a brave undertaking. In reality, however, its pulse is all but gone. Behind the Post Office (at least for the moment) offers safe style, and in fashion, safe equals death.
These designers are friendly (especially the Behind the Post Office crew) and seemingly dedicated, but their designs exhibit no real creativity, just rote production. A few thoughtful details tacked onto faux-minimalist, i.e. boring, designs do not qualify as real talent. And the last thing the world needs is more banal clothing.
Vintage clothing stores are a dime a dozen, and often more expensive than regular stores. Ironically, as vintage stores take over, the appeal of throwaways wanes. I'm fed up with wearing others' musty hand-me-downs and paying exorbitant designer prices for the privilege. Yet new clothing, mired in today's snore-bore stance, offers no real alternative.
Society is more alert than ever to the cult of fashion design, and maybe that's why so many young-blood hipsters are jumping on the bandwagon. But in fashion, unlike other "entertainment" industries, youth and desire are not enough. A thwarted rock & roller or a wealthy clotheshorse does not necessarily make a good designer. The majority of American fashion is shackled and systematized, incestuously imitating Bryant Park's seasonal dictates of death. Fashion designers seem unable to break free from capitalistic venture and mass-production. But the industry marches to a death knell by only affirming designs that sell. How does fashion exist as an art form if society's need for money and safety continually forces design into pigeonholes?
In the middle of the muck, Fashion Syndrome has arrived. The brainchild of production freelancer Gisela Tangui and designer MLY, Fashion Syndrome is a stylish performance-art extravaganza dedicated to taking the pomp out of snobby fashion shows and playing up fashion's high-drama quotient. Once a month, Gisela and a coterie of performers-turned-models descend upon The Stud with costumes designed by MLY. Each of the models has an alter ego and improvises within the overall theme of the evening while sauntering down the catwalk. It's sort of Paris Is Burning in San Francisco ... San Francisco is Storming? Collectively it's more costume than fashion, but individual pieces are for sale and would be a welcome addition to many wardrobes. And Gisela is always looking for new co-collaborators. Although Fashion Syndrome is certainly not the fashion messiah, by mocking the current state of things it provides a place to experiment, subversively reinstating inspiration. In what hopefully proves to be merely one of fashion's unfortunate transition eras, Fashion Syndrome offers real style and cutting commentary on the unbreakable ties between money and fashion.
Fashion always represents something greater than an item of clothing. Hopefully a few young designers will fall off the bandwagon and, in the process, discover what true style is all about.
---
A Motion Studio, 440 Brannan St.
Behind the Post Office, 1510 Haight St., 861.2507
The Stud, 399 Ninth St., 252.7833
MLY Design, 441.6389
Gisela, 313.4196 (pager)
---
[ San Francisco | MetroActive Central | Archives ]