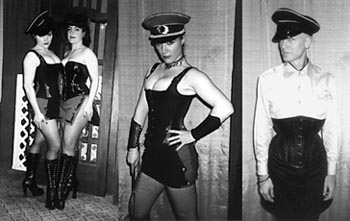 Achtung: Outfits that will whip you into shape!

Vive La Guerre!

Not your father's military surplus uniform

By Julie Ann Ross

It's spring, and that of course means the arrival of new designs from the makers of premier fetish wear. Goth mainstay Dark Garden is branching out with a military-inspired line of mostly RTW items designed by proprietor Autumn Carey-Adamme and assistant designer Jennie Hinchcliff.

Men can mix and match black cloth pants with burgundy stripes down the side, gray shirts with silver insignia buttons and epaulets. For women, there are racy black pleated leather hot pants with metal hooks or a burgundy miniskirt with black patent insignia. Dark Garden also has custom corsets in the same theme. Accessories include leather cuffs, collars, "envelope caps" (which bring to mind gas-station attendants), or visor caps (sort of Tom of Finland meets the Luftwaffe). They're all available in a color scheme of burgundy, black and gray--ideal for those who seek to color-coordinate with their date on their big night out at the fetish ball.

What inspired your designs?

Jennie Hinchcliff: Autumn and I drew on mostly Russian and German World War II stuff and American insignia from World War I. We distilled all that into one color scheme--you get so sick of seeing just red and black in clubs. There are shiny bits, too--buttons, hooks and insignia patches.

What army did the leather hot pants come from? I might enlist.

We wanted it to be fun and sexy, too. We shied away from anything recognizably authentic. We want people to see someone across a room and say, "That looks intriguing."

Why the new line?

People think we have only custom-fitted and one-of-a-kind stuff. But most of the Corset Corps are accessories and off-the-rack. You can come in on Saturday afternoon and say, "I'm going out tonight and I want something interesting to wear." It can be as simple as getting cuffs and a cap to dress up something you already own. They look really good with basic black leather corsets.

Why military?

A lot of men were coming into the store, they weren't into getting a custom corset, but they wanted something. Men seem to identify with uniforms, especially the military. Plus, people look good in uniform.
---
There's no arguing with that. "Corset Corps" will coincide with the May grand opening of an upstairs room for fetish wear and gear. Get a sneak preview at upcoming April fashion shows; email [email protected] or call Dark Garden at 431-SNUG for event information.
---
[ San Francisco | MetroActive Central | Archives ]