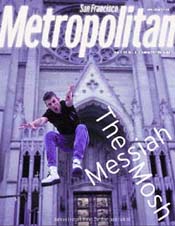 June 21, 1999
Cover: Rock of Ages
The Father, the Son and ... Sid Vicious? A Christian punk movement builds in the East Bay.
House of Cards: Get a job using your tarot.
Tara's Advice: Journeys in the astral plane.
Frisco Utopia: Hank Hyena heats up the San Francisco Bay.



Future Folk: Karry Walker rocks folk to the beat of a different drummer.
Delicious Duo: Cibo Matto fights against musical stereotypes on its new album.
Viva! La Women: Lilith Fair returns with most eclectic roster ever.
Music Picks: Reviews of the latest CDs by Star Wars and Other Galactic Funk, Boy Kicks Girl and The Chemical Brothers.
Club Guide: Disco divas, hip-hop connoisseurs and salsa suaves to flannel-clad pinball players, jazz luminaries and more.



Makeup Milanese: The shell-shocking cuteness of Pupa cosmetics.
Miss Pinkie Shears: The debonair miss gives her fashion advice.
Concrete Runway: Camille at Haight & Clayton.



Natural Born Killer: 'The Pathology of Lies' has a novel take on the cutthroat world of publishing.
Book Picks: Reviews of the latest books by Ariel Dorfman and Marci Blackman.



Cat Scratch Fever: Black Cat's multidirectional menu leaves diners clawing for more.



Running on Empty: Director Tom Tykwer on the spirals and superheroes of 'Run Lola Run.'
Bloody but Bowed: 'The Red Violin' strings together the centuries and their passions.
Film Picks: Reviews of The Trial, the 23rd Annual Gay and Lesbian Film Festival and Twice Upon a Yesterday.