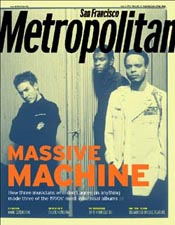 July 13-26, 1998
Features: Massive Trio
How three musicians who don't agree on anything made three of the 1990s' most influential albums.
Wharf Watch: Drag for the soul.
Millie's Map: Millie's big bite out of the Big Apple.
Job Interview: Tales of the naked sax player.
Tara's Advice: Tara on face-lifts.



Shades of Summer: A peek at this season's coolest sunglasses for guys and gals.
Feeding the Mane Vain: The 411 on hair extensions.
Miss Pinkie Shears: The debonair miss gives her fashion advice.
Concrete Runway: Selamawit Mekonen on the Haight.
Real Art: Earthquake propaganda.



Good and Plenty: Christopher Scott Cherot's Hav Plenty talks back to Waiting to Exhale.



Do-It-Yourself-DJ: From custom-made CDs to custom-made songs.
Havana by the Bay: Latin-music group Conjunto Céspedes mixes contemporary concerns with the timeless rhythms of Cuba.
Lollipops and Riot Cops: Breakdown 98 and Party Monster, a debauched double feature.
Club Guide: A week's worth of hot night-clubbing.



Home Brew: Cafe Kati chef/owner Kirk Webber is known for blending Japanese and Italian flavors into a sort of home-style American cuisine.
Braised Endives: A simpler way to enjoy a familiar garnish.



Cool Britannica: Helen Fielding and Nick Hornby are both hot UK novelists, but only Hornby deserves the hype.
Book Picks: Brief reviews of The Exes and Raw Deal.