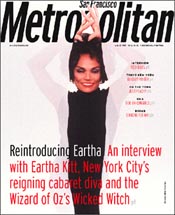 July 27-Aug. 9, 1998
Features: On Eartha
A talk with Eartha Kitt, cabaret diva and the Wicked Witch in The Wizard of Oz.
Millie's Map: Millie hits the big screen at the new AMC.
Job Interview: An earnest interview with a drama queen.
Tara's Advice: Tara on cancer sticks.
Read2Win: A reading comprehension contest.



Working 9 to 5: All-day masque keeps skin on an even Kiehl.
Miss Pinkie Shears: The debonair miss gives her fashion advice.
Concrete Runway: Gabriel Eberhardt in Hayes Valley.
Real Art: Lost-pet posters.
Illegal Art: Graffiti takes over SFMOMA online.



Fellini Redux: Federico Fellini's 1957 classic, Nights of Cabiria, is re-released.
Along for the Ride: Amanda Micheli's documentary film features kickass heroines and horses.



Just Peachy: It may look glamorous, but work as a Peachy's Puffs can also be grueling.
Mambo Madness: San Francisco's CuBop label brings Afro-Cuban jazz to the Left Coast.
Rancid's Worth the Wait: Life Won't Wait, the latest from Rancid, confirms the band's commitment to truth in music.
Music Picks: Reviews of the latest CDs by Eighty Mile Beach, Trumystic Sound System and various artists.
Club Guide: A week's worth of hot night-clubbing.



Hot Cross Buns: Cakes and pies are baked to order in a wood-fired oven at the delicious dessert cafe Citizen Cake.
Raspberry-Chocolate Love Cakes: A recipe from the kitchen of Citizen Cake.



Mo Better Blues: Daniel Duane's Looking for Mo manages to make hippies interesting.
Book Picks: Brief reviews of Breakup: The End of a Love Story, Invisible Republic and Blues for Hannah.