Visual Arts Picks

Picks by Christine Brenneman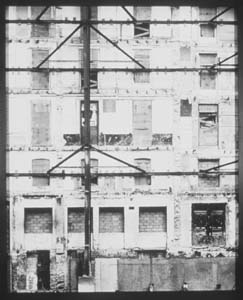 A Tale of Three Cities
Thru Oct 9; Tue-Sat noon-5pm
SF Camerawork, 115 Natoma St; 415.764.1001.
Bringing together the urban-centric work of three gifted photographers, "A Tale of Three Cities" highlights the cityscapes of Paris, Los Angeles and San Francisco. As part of the "Côte Ouest: The Season of French Contemporary Art" happening throughout California this fall, French photographer Stephane Couturier contributes his multi-layered photos of Parisian monuments to this exhibit. Couturier captures the aging yet fabulous facades of buildings undergoing remodeling in his large-format works; he invokes the charm of Parisian architecture in spite of the unattractive scaffolding that obscures the beauty only in order to preserve it. Photographer Robbert Flick concentrates on documenting Los Angeles by tying a video camera to his car and driving through the city. He clicks off one frame for each building he drives past, then assembles them into giant composites. This technique gives the work a sense of movement and a larger overall concept of LA. The only mural-size image, Pacific Coast Steel Corporation #4, shows photographer Henrik Kam's take on the industrial side of San Francisco. In the piece, the brick face of a factory building stands peacefully, perhaps a soon-to-be-obsolete element of the city.
---
Jimin Lee
Thru Sep 25; Tue-Fri 10:30am-5:30pm, Sat 11am-5pm
Don Soker Contemporary Art, 49 Geary; 415.291.0966.
Korean printmaker Jimin Lee soars in her first solo show in San Francisco. She utilizes photo etching and handmade paper as part of her print technique, resulting in lovely mid-size prints. She concentrates on everyday objects such as bathtubs, toiletries and cell phones, infusing them with emotion and gravity, removing them from the realm of the common. The Bathtub With Two Drains (1996) shows a mottled and dark tub; plumbing spills out of one end, almost like guts. The tub takes on a living presence, with chicken feet protruding from the bottom of the tub. Likewise, The Red Can (1997) depicts a receptacle that holds "dirty rags only." Drips run down the piece with randomly spaced, textured spots scattered about the space. Once again, Lee fetishizes the ordinary object and iconizes it.
---
Margaret Killgallen
Thru Oct 28; viewable 24 hours a day on kiosks along Market Street
Contact SFAC for more info; 415.252.2590.
Along the Market Street corridor, it's easy to overlook the sidewalk kiosks containing the work of local artists. However, in the case of rising art star Margaret Killgallen, stopping to take in her work is a welcome diversion from the hectic pace of downtown San Francisco. Killgallen's original poster designs portray urban folks in a variety of Market Street-oriented activities: walking, chatting, spray-painting graffiti, smoking cigarettes and biking. The artist often works from photographs--either her own or those from decades past--in order to accurately recreate the actions of people on the move. Killgallen seems to be especially enamored of old signs. Text reminiscent of signage shows up in a number of her posters. All in all, she grasps the feeling of urban movement: the sights, sounds and personalities burst forth from these posters, offering a stylized version of what other San Franciscans see every day.
---
[ San Francisco | MetroActive Central | Archives ]