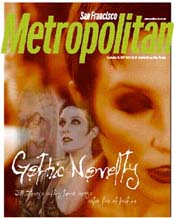 September 13, 1999
Cover: Gothic Novelty
Jill Tracy's eerie but mellifluous torch songs have finally come of age.
House of Cards: Mark Ewert reads a young starlet's future.
Job Interview: Porn-formance artist Jade-blue Eclipse talks about her work.
Tara's Advice: Soul-sucking squid-faced Venusians.
Frisco Utopia: Hank Hyena axes taxes.



Vive Le Metreon! The Sony Metreon--suburban wonderland or vortex of chi?



One Man's Treasure: Sculptor Jerry Ross Barrish on urbane debris.
Beneficent Beauty: Fools blush in at Benefit Cosmetics.
Concrete Runway: Josh Henderson at Haight & Clayton.
Solar Plexus: The virtues of tanning.
Visual Arts Picks: Reviews of 'A Tale of Three Cities,' exhibits by Jimin Lee and Margaret Killgallen.



Going Postal: Is 'The Minus Man' missing something?
Film Picks: Reviews of 'La Grande Bouffe,' the Out of This World Sci-Fi Festival and 'The Source.'



Not From Concentrate: Oranger colors the big labels green with envy.
Music Picks: Reviews of the latest CDs by Supersuckers, The Blue Hawaiians and L7.
Club Guide: Disco divas, hip-hop connoisseurs and salsa suaves to flannel-clad pinball players, jazz luminaries and more.



Freaks and Geeks: Cartoonist Lynda Barry gets hardbacked with 'Cruddy.'
Book Picks: Reviews of 'Bust Guide to the New Girl Order' and 'Capture the Flag.'