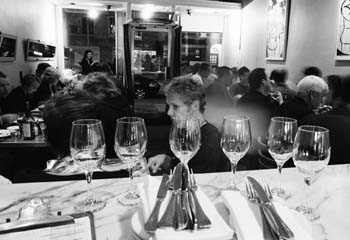 The Oracle of Delfina
The wise head to WoMA for the haute homestyle Delfina
By Michael Stabile
It's hard to believe, but there are few restaurants in San Francisco that I find myself fantasizing about again and again. Don't get me wrong--I marvel at Postrio, fawn at Jardiniere and dote on Boulevard. But--with the possible exception of Chez Panisse--I rarely feel at home in the high end. I suppose if I could afford to sup every night from Wolfgang Puck's own ladle I might feel differently, but as it stands I have neither the time nor the inclination to be catered to constantly, thanked obsequiously or eyed suspiciously. So when people ask what is the best restaurant in San Francisco, I'm stumped. Should someone ask my favorite places to dine, however, I would come up with a list of glowing recommendations.
Delfina, in the nearer-and-nearer-to-tony west of Mission area (acronym, anyone?), is my newest mistress and mother, joining a pantheon of past and current romances such as the Slow Club, Enrico's, L'Osteria del Forno, Warakabune and the Elite Cafe. It's neither haute cuisine nor home cooking (unless Ma was a graduate of the C.I.A.), but wisps of both intermingle in the final product. Delfina, like a February casserole or late-summer Caprese salad, somehow knows to make just what you want, right when you want it. And it's not shy about style, either.
A plate of Jamon Serrano with fresh figs offered a subtle twist on the prosciutto classic: slices of cured ham flowed through a fig bed like a porcine dry creek, with thin shards of pecorino cheese balanced like migrant lean-tos on its culinary shore. Crunchy salty sweet juicy smooth deep. How could you prepare a better start to a complex and rich meal?
The menu is heavily Italian, with a Tuscan flair, but barriers, like Italian provinces, are fluid and Delfina is not afraid to think globally while cooking locally. Alongside linguine with sole (inspired by a dish from Florence) and braised lamb shanks are such bistro/diner classics as a flatiron steak and fries, and roasted chicken with mashed potatoes.
There are two things whose culinary appeal I've never quite seen: gnocchi and polenta. While the former often sits in one's stomach like fried Silly Putty, the latter always ends up tasting of lackluster '70s vegetarianism. Can I wax eloquent on Delfina gnocchi for a moment? Thanks. Um, they changed my life. Little pillows of savory happiness, they were. Surrounded by sweet corn and chanterelles, the airy orbs bobbed in their rich reduction like luscious lifeboats. I didn't risk any dish with polenta, in order not to push my luck in one night, but I wouldn't worry about risking it. Delfina does it right.
When I eat steak, I like it raw. Neanderthal rare, Christina Crawford rare. If it is safe to eat raw fish, I see no reason that I shouldn't be able to consume borderline blue beef. And almost everytime I order steak rare, it comes to me medium rare. Pink in the middle (um, pink is for GIRLS--duh!), like they don't trust me. Rare beef is a delicacy, and there's nothing I hate worse than being second-guessed without asking for approval. In any case, Delfina served me my Niman steak so rare it could still be milked. Bless them. And my fries were first-rate.
Delfina is my newest home. It's unfortunate that it's so hard to get reservations .
---
Delfina, 3621 18th St (between Dolores and Guerrero), 415.552.4055
---
[ San Francisco | MetroActive Central | Archives ]