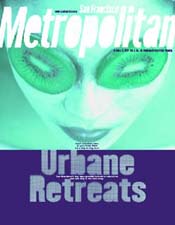 October 11, 1999
Cover: Y2K: A Spa's Odyssey
Metropolitan takes the day off and hits the showers.
House of Cards: House of Cards bids farewell with Cher.
Job Interview: Aesthetician and manicurist Kindra Nelson.
Tara's Advice: Tara finds love on the Internet.
Y2K Fashion Bug: Searching for Internet style.



Roller Boogie of Doom! Harmon Leon trains with the Bay City Bombers.



Smoothed Grooves: Camocare firms up the lines of time.
Concrete Runway: Brent Haas at Polk and Sutter.
Pure Gin--ius!: With the newest high-end gin bottling, the proof isn't just in the pudding, it's in the hangoverless next morning.
Visual Arts Picks: Reviews of 'Friendly Machines,' 'Three French Media Artists Explore the Obvious and the Unseen' and 'Facing Fear.'



Cinema Sounds: Craig Armstrong and Billy Corgan resurrect the art of the movie soundtrack with music for 'Best Laid Plans' and 'Stigmata.'
A Cockney in California: 'The Limey' brings Soderbergh's dark touch to the City of Angels.
Negative Space Man: Film theorist Manny Farber on the rules of the trade.
Film Picks: Reviews of 'Louis Prima: The Wildest,' 'Three Kings' and 'Romance.'



Music Picks: Reviews of the latest CDs by The Funky Precedent, The Folk Implosion and Beth Custer.
Club Guide: Disco divas, hip-hop connoisseurs and salsa suaves to flannel-clad pinball players, jazz luminaries and more.



The Oracle of Delfina: The wise head to WoMA for the haute homestyle Delfina.



Anti-Lamott: Is Anne Lamott just another pouty face?
Book Picks: Reviews of 'Lapham's Rules of Influence' and 'The Kid.'