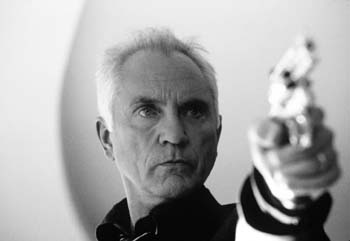 A Cockney in California
Steven Soderbergh's formula mystery 'The Limey' targets L.A. decadence
By Richard von Busack
In Steven Soderbergh's new film, The Limey, Terence Stamp plays Wilson, an Englishman who comes to L.A. on a mission of revenge because his daughter has turned up dead in a suspicious car accident. Wilson, a Cockney thief now free from jail and carrying a good income from his previous robberies, descends like an angel of death on the City of Angels. His obvious target is the rich music industry legend Terry Valentine (Peter Fonda), who was the daughter's last known boyfriend.
The film unfolds as a simple revenge mystery, with barely a twist to call its own. It lasts around 90 minutes, and the only originality is in the telling. But first let's mention Stamp himself as Wilson, seen both today and as he was 30 years ago in clips from Kenneth Loach's 1967 movie Poor Cow, in which Stamp also played a thief named Wilson.
Stamp has saved more bad movies than popcorn, but he was never Lee Marvin, even in his youthful days. Stamp has never posed a physical threat; he is the kind of villain who sics his henchmen on the hero. And though Stamp has working-class roots, they are but a dim memory. It's hard to believe him as a gruff Cockney. He's too barbered, too well preserved to make you think he'd just got out of jail. "You're not specific enough to be a person; you're a vibe," says one character about the wealthy record producer. It's true of Stamp's character too.
Fonda, by contrast, only has to embody a wealthy Southern California decadent, and he does so memorably. Thanks to decades of sunbathing, Fonda looks burned out on the outside as well as on the inside. And he has a short speech about what the '60s were like that is one of the realest moments in the movie.
Soderbergh's facility with actors is so good that Fonda's Valentine makes the short reminiscence--told to his very young mistress as she soaks in a bathtub--sound like the definitive obituary for the hippie dream.
Valentine's hillside house, on a peak of one of the Santa Monica mountains, has a swimming pool held up on stilts over a 300-foot drop. It is one of the most arrogant edifices in the history of Southern California architecture.
Sometimes, the shots of Wilson gliding around this remarkable house ("it doesn't have a bad angle," Soderbergh says) provide all the diversion a viewer needs. And the first encounter between Wilson and his female friend Elaine (Lesley Ann Warren) is also special. Soderbergh's use of jump cuts, flash-forwards and voice-overs makes for an almost telepathic conversation, tied together from three separate locations. (It's a much more tricky variation of the fractured, yet deeply romantic Detroit hotel love scene from Out of Sight.)
Maybe the thinness of the plot gives Soderbergh a chance to improvise, like a jazz artist riffing on a hackneyed ballad. The Limey is never a taut movie, and it almost loses its thread in the pursuit of visions of California, its gorgeousness and decadence.
The Limey isn't a diatribe but an elegy, taking in L.A. parties from the point of view of a director who has always been an outsider in the film business. As a thriller, the film barely exists, but Lem Dobbs' script delivers a certain sweet/sour poetry that crops up enough to give The Limey cult adulation. But this script is uneven work. Wilson's Cockneyisms sound as queer as a clockwork orange. The troubling way this limey switches from avenging angel to guardian angel ruins the movie for those who can't submit to Soderbergh's dazzling style .
---
'The Limey' (R; 90 min.) opens Oct. 8 at Landmark Bridge Theatre. Opens Oct. 22 for wide release.
---
[ San Francisco | MetroActive Central | Archives ]