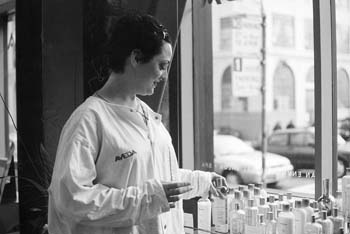 Job Interview
Hands On!
By Tracie Broom
These days, the spa manicure or pedicure is much more than a clip, file and polish job. Spa manicures and pedicures include soaking, massage, heating, exfoliation and cleansing--almost relegating nail polish to a mere afterthought.
From her home state of Washington, Kindra Nelson brings seven years of experience in hand, foot and nail care to South of Market's über-hip Aveda concept salon and spa, Sheirling.
What do you consider your job to be?
Being an aesthetician and manicurist is very rewarding, very positive and fulfilling. The longer I do it, the more I appreciate it.
How did you start?
I started right out of high school. I knew that I didn't want to go to a four-year college, so I started doing it so that I could take time to figure out what else I'd want to do. I didn't think that there was good money to be made in it, but there is.
How long have you been doing it?
About eight years.
Who or what was your inspiration to enter this career?
Probably my mother, because she pushed me and drove me to do it. She could tell long before I did that it would be something I'd be good at, because I like interacting with people. My family and friends say that I have a soothing quality about me.
Do you have any pet peeves about this career?
I have a lot. Probably the biggest is when people don't show up, and they've reserved a full manicure and pedicure, which is a full two hours of my time. Sometimes you have repetitive no-shows who do it a lot.
If you weren't doing this, what would you be up to?
I would have finished up my flight attendant training and probably would have gone back to it, but when I was in training, I didn't like the idea of being stationed in Houston or Cleveland.
Are there any perks to the job?
Meeting all kinds of interesting people, tons of people you wouldn't meet in ordinary circumstances. Also, getting salon and spa services. We get a discount on products and barter with each other within the spa for services. Also, keeping other people's minds and bodies centered keeps me centered. If I were tense, then my energy would make the customers tense--it sounds hocus-pocusy, but it's true .
[ San Francisco | MetroActive Central | Archives ]