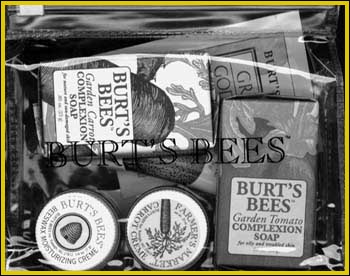 Honey to the Bee
Burt's Bees skin care product offers up a garden of dermal delights
By Dara Colwell
A vegetable medley that's good for your face, Burt's Bees travel-size "Facial in a Kit," offers everything you need to cleanse, hydrate and moisturize that plot of land north of your shoulders. The kit contains several sample-sized veggie creams and soaps with a good dose of residual vitamin C--all originating from that stuff your mom made you scrape off the plate before getting dessert. Well, it's not just for dinner anymore.
The kit contains:
Carrot nutritive creme--made from carrot seed oil, which revives and repairs sun-damaged and aging skin. It smells better than that thick white icing that tops a carrot cake and it spreads like butter.
Carrot seed oil complexion mist--a concoction of rose, sandalwood, patchouli and carrot seed oils, which hydrates and rejuvenates the skin. It comes in a mace-sized spritzer and looks more like a gardening spray than a beauty product but it smells wonderful, almost like a woodshed in deep summer.
Garden tomato complexion soap--for oily and troubled skin. Dried tomato helps maintain the skin's pH balance and yes, it's red and smells exactly like a tomato. You may feel troubled rubbing salad fixings over your body but it can't be any worse than eating a Campbell's tomato soup cake, which is exactly what my home-ec teacher made me do in the sixth grade.
Garden carrot complexion soap--made from fresh dried carrot, with aloe vera and beta-carotene. This soap seems more innocuous, somehow, and is good for mature and sallow skin.
Green Goddess herbal spa clay mask--for deep cleansing. Made from clay, peppermint, comfrey and rosemary leaves.
And, for 'dessert':
Beeswax moisturizing creme--an aloe-enriched moisturizer for all skin types, made of sweet almond oil, beeswax and grapefruit seed extract. Good for face, throat, hands and rough elbow patches, it is a thick, waxy cream that coats the skin and sinks in deep.
Orange essence cleansing creme--an incredibly rich-smelling cleanser with orange oil and oat protein that moisturizes and conditions the skin.
Wings of Love all-natural lipstick--made from natural pigments. It comes in a tiny applicator which resembles those lipsticks made for Barbie heads in the '70s.
And, finally, Wings of Love powdered facial tissues--cornstarch-laced rice paper sheets that absorb excess skin oil. Great for the under-30s who still have oily skin.
The entire pack costs $13.95 and can be found at Pure Beauty stores throughout San Francisco. Burt's has also created a sweeter companion kit that contains honey and almond lotions and costs the same .
[ San Francisco | MetroActive Central | Archives ]