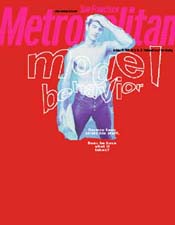 October 25, 1999
Cover: Model Behavior
Is the world of modeling as glamorous as it seems? Harmon Leon goes undercover to find out.
Job Interview: From monk to masseur, Thomas Aquinas Westerfield soothes with his heart and hands.
Tara's Advice: Tara confronts touchy-feely therapy.
Global Fashion: An Australian company pushes bodyhose in America.
Ideal Estate: Law student Dan Goldstein on the high rewards for selling out.



Honey to the Bee: Burt's Bees skin care product offers up a garden of dermal delights.
Concrete Runway: Lotta Velger at Haight and Ashbury.
Glamour Grunge: Vain hair products offer tress relief.



The Real Reel Festival: The Film Arts Foundation creates a starter culture for truly independent cinema.
Sting! Sting! Sting! 'Spider Baby,' a 1964 cult classic, returns for a Halloween revival at the Roxie.
Film Picks: Reviews of 'Freeway II: Confessions of a Trick Baby,' 'Dark Wave' and '1999: Recent Work by Eli and Michael Rudnick.'



Visceral in Vegas: Death in Vegas finds psychedelic flashbacks when rock and electronica come together.
Music Picks: Reviews of the latest CDs by Nanci Griffith, Genaside II and Man or Astroman?
Club Guide: Disco divas, hip-hop connoisseurs and salsa suaves to flannel-clad pinball players, jazz luminaries and more.



Original Zin: California's own zinfandel wins friends and influences palates with its big, bold taste.
No More Wining! With new downloadable software from WineScore, you'll never be grape-shy again.



Apocalypse Later: Novelist William Gibson looks at the small picture with nanotechnology.
Naughty, Gaudy, Bawdy & Sporty: 'Sin in Soft Focus' zooms in on Hollywood's sexy pre-censorship heyday.
Book Picks: Reviews of 'Opium: A Portrait of the Heavenly Demon' and 'A Gesture Life.'