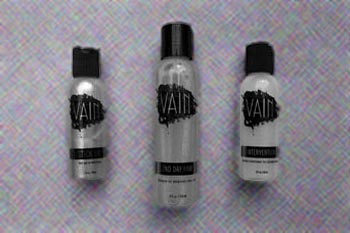 Dirt Bags and Roach Clips
Grunge is dead! Glamour is dead! Long live glamour grunge!
By Jack Shamama
OK, OK, grunge is dead--we all know, but when it comes to styling our hair, some of us have little choice in the matter. All my life experience has dictated that the dirtier the hair, the less unruly it becomes. To the jeers of my more hygiene-inclined friends, I let my hair go without a washing for a couple of days, weeks ... whatever it takes to keep the strands in check. I want to be normal, I really do. I want to wash, rinse, repeat like everyone else, but when I do, I end up with an Isro (Jewish version of an Afro).
Enter Seattle-based stylist Victoria Thomas Gentry, whose "Vain" line of hair products and accessories is geared toward the young urbanite who wants to look like a punk but doesn't want to smell like one. With Urban Decay-inspired slogans like "Put the ass back in sassy!" all of a sudden my full line of Kiehl's products was looking downright Republican.
The bottle that screamed "Use me! Use me" was called 2nd Day Hair. Formulated with ginger, this shampoo for "marginally clean hair" cleans your scalp while leaving in the natural oils. I was pleasantly surprised at how "poorly" this product worked. After another long, smoky, boozy night out, I gave it a try and found my hair to be much less than squeaky-clean. Like a good dominatrix, it kept my hair in place. And for that, 2nd Day Hair has a permanent place in my shower caddie.
After a recent accident involving some 400-volume developer and a toner called "baldie," I was eager to see if Vain's Intervention ("serious conditioner for (s)tress rescue") could live up to its promise. It did. In addition to breathing some life back into my dyed and fried locks, Intervention soothed the throbbing, bloody welts that had resulted from too much peroxide.
In another move that's sort of embracing current trends while also sort of rejecting them, Vain just unveiled Critter Clips in a market infested with the boring and ubiquitous butterfly clip. Now when passersby scoff, "That girl's got roaches in her hair!" you can hold your head up high, knowing full well that you're hot on the heels of the biggest hair trend since the Rachel cut. Colorful yet clunky spiders, scorpions, lizards--what better way to draw attention away from the cooties and the psoriasis?
[ San Francisco | MetroActive Central | Archives ]