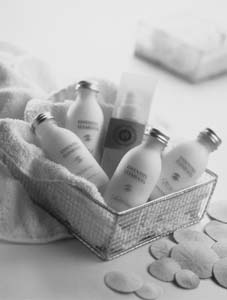 Aroma Charges
Give the gift of youthful vitality with Essentiel Elements skin products
By Dara Colwell
Yes, 'tis the season yet again to be thinking of what to bring home for Christmas (aside from laundry, darlings!). For those of you who shop by perusing the aisles of Walgreens or (especially if it's last minute) Safeway, Essentiel Elements skin products offer an affordable, classier alternative. Whether you're buying for mom, a loved one or yourself, leave the soap on the shelf and check this out; it's a definite step above Jergen's.
Essentiel Elements has a number of delicious body-care products using essential oils and advanced botanical ingredients in the four following flavors: Joie de Lavender, Citrus Dream, Wake-up Rosemary and Fleur d'Amour. Lavender, well known for its relaxation properties, encourages restful sleep; citrus oils of tangerine, grapefruit and mandarin orange restore and renew the skin; rosemary, combined with mint, stimulates the senses and eliminates mental fatigue; and the essential-oil blend of ylang ylang, geranium and marjoram has an exotic, sweet aroma, and ylang also has a reputed euphoric effect on the soul. I tend to opt for products infused with lavender, which after dozens of espressos brings me down to earth and makes me human enough to write this column. But let your own nose guide you.
Choose from hydrating lotions, shampoos and conditioners, shower gels, toners, cleansers, creams, bath bars and facial scrubs. There are dozens of products that promote balanced skin with natural minerals and healing agents. Or you can opt for the Body Lotion Gift Sampler, a collection of travel-size body lotions nestled in a plush washcloth and wire basket ($40); "Caviar" bath beads, scrumptious little beads which come in a caviar tin ($16); or the Essentiel Gift Collection sampler, which contains a bit of everything: shower gel, a cobalt-blue bottle of pure, delicate essential oil and a body lotion sampler ($32). The samplers are a wonderful way to treat yourself to an array of fine products, and the packaging is already done for you--just gift wrap and voilà! You have an elegant basket full of goodies.
You'll have outdone yourself this year.
---
Essentiel Elements can be found downtown at Sephora, by calling 800.908.4009 or clicking on the website www.EssentielElements.com
---
[ San Francisco | MetroActive Central | Archives ]