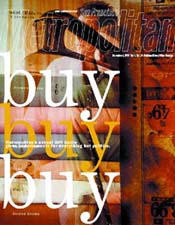 December 6, 1999
Cover: Buy Buy Buy
Tons of stuff to blow your holiday bonus on.
The Bold and the Beautiful: The luxury you give comes back to you three times....
Holy Sh*t! Holy gifts for the truly devout.
Maturation Anxiety: From the thoughtful to the thought-provoking, an eclectic list for those who aren't quite sure if they're ready to make the leap into adulthood.
Multinational New Ideas: Ten big global gift ideas.
Cheap Trips: Gifts for the man (or woman) who has nothing.



Charmed, I'm Sure: Scene queens Julie and Julia spread Blood & Butter.
Job Interview: Mark Ewert assumes the position with a yogi.
Tara's Advice: Tara encounters mail-order bride mayhem.
Global Fashion: Ponchos arrive for the winter season.
One Card Monte: Getting a grasp on libidinal powers.
Turn Styles: A night of drinking and dancing with writer J. David.
Urban Libations: Pisa makes a stunning entrance in the high-end nut liqueur market.



Dangerous Booty: The New Langton Arts Auction offers up pricey but original holiday gifts.
Aroma Charges: Give the gift of youthful vitality with Essentiel Elements skin products.
Concrete Runway: Irene Emma Hernandez Felks at Market & 16th.
Style Mavens: Bed-head in a bottle.



Endurance Test: 'The War Zone' shows England at its least glamorous.
Film Picks: Reviews of 'Beyond the Clouds,' 'The End of the Affair' and 'Love Reinvented.'



Starr Power: Gang Starr's double-disc set bridges the old skool with the new skool.
Music Picks: Reviews of the latest CDs by the Foo Fighters, Third Eye Blind and Metallica.
Club Guide: Disco divas, hip-hop connoisseurs and salsa suaves to flannel-clad pinball players, jazz luminaries and more.



FRANKly, My Dear: Michael Stabile receives a warm introduction to JOHNFRANK.



Extreme Lepidoptery: Bianco on butterflies in 'Nabokov's Blues.'
Book Picks: Reviews of 'Ultimate Beer' and 'Radical Graphics/Graphic Radicals.'