The luxury you give comes back to you three times ...
By Tracie Broom
Money can't buy you love, but it sure can buy you some bitchin' presents. Whether you give them a boutique champagne for $25 or a $500 objet d'art, your loved ones will know that they are mucho special when they see what cool gifts you've gone to the trouble of finding.
Obscure Champagne
Give them something sparkly to go with those caviar dreams. Not only will you garner a rep for good taste, you'll also find it quite handy to have stocked your friends' fridges with champagne once those roaming New Year's parties rev up. Ask the most bad-assed maitre d' in town where to score the best deals on champagne and he'll tell you without a blink: D&M Liquors on Fillmore. As the pre-eminent (and friendliest) source of mail-order champagne in the United States, D&M carries amazing, obscure vintners like Serge Matthieu, Palmer and Pierre Gimonnet et Fils alongside tired old standbys like Veuve Clicquot.
D&M Wine and Liquor Co., 2200 Fillmore St., 415.346.1325
A Man's Half-Day at the Spa
Spa services for men: how much more progressively pro-luxury can you get? At Elizabeth Arden Red Door Salon and Spa, you can score a sweet all-around grooming treat for that man who can't keep his feet pumiced enough to make it through one night of under-the-covers leg-rubbing. The Executive Escape, a mere $148, will land him a Swedish massage, a facial, a manicure and a pedicure, after which he will be--head to toe--a joy to touch. Throw in a $55 back-waxing and a $35 haircut and he'll look just like your own private Clark Kent.
Elizabeth Arden Red Door Salon and Spa, 126 Post St., 415.989.4888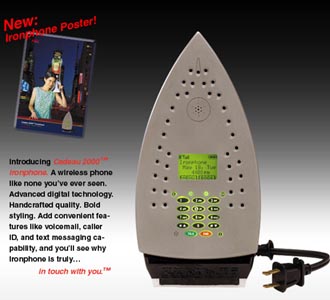 The Ironphone
At www.ironphone.com, you can purchase a limited-edition special something for the gadget fiend who has everything. It's a traditional housewives' iron that's been gutted and sleekly fitted with a Sprint PCS digital phone, and at 1.5 pounds it's a portable sign of haute design. In an age when even the weirdest of the weird will shock no one, it might be fun to talk shop into an iron as you toddle along Chestnut Street in your flip-flops and cutoffs. To order your Ironphone, call Applied Diversities at 718.782.7348. With only 100 in production, you'll have to hurry to lay down $500 for this functional collector's piece.
Pashminas
If you're up on fashion, you've known about pashminas for over a year now. Pashmina is touted as the world's finest type of cashmere, harvested from the undercoat of the Himalayan mountain goat. The pashmina, made in India, is basically a cross between a scarf and a blanket at 3 feet by 7 feet; it's lightweight and thin but extremely warm. With its long tassels and silky sheen, the pashmina is fast becoming the it-accessory in all the chichi-est circles. A high-end pashmina will run you $1,000, but great ones are available at Saks and Neiman's for $365 to $600. Beware the Chinese cheapie loose-weave variety, which sells for just under $200. For a fantastic deal on a high-grade pashmina, go to www.shopsplendora.com. Their pashminas come in 15 colors including periwinkle and bubble gum, and they're on sale from $279 to $199 (Splendora got a good deal by buying them directly from the maker in India). You can call the nice ladies at Splendora here in the city and order direct: 415.495.6600.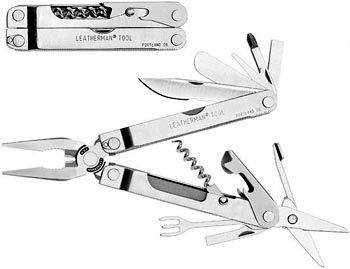 The Leatherman 'Flair'
Those who love Leatherman pocket tools are cultish in their devotion to the brand--for good reason. The quality is beyond compare, and truly there is no more useful tool than a Leatherman. Now the company has introduced a new version of the tool: the Flair. With six screwdrivers, a knife, pliers, wire cutters, ruler, etc., etc., it's still burly as ever, but with a few sassy modifications. It sports a waiter's wine key, a cocktail fork, a spreader knife and scissors. It's small and lightweight, made to get you through a day's handiwork as well as a pinot noir and parrano cheese picnic. It costs between $60 and $70. See www.leatherman.com for more info if you can't find it at your local hardware store.
Bath Bombs by Lush
Lush is known by all of girlkind to be the best and most genuine source for huge, fizzing bath bombs. A Canadian soap-making pioneer, Lush offers its handmade bath and body products in a hip-hippie-hooray sort of way. Lush has about 20 different flavors of bath bomb. The heart-shaped Tisty-Tosty bath bomb, which releases rose petals into the bathwater, is the most popular, followed closely by the cocoa buttery, ylang-ylang-laden Butterball. At $3 a pop, you can send a whole bouquet of bath bombs to anyone in the world. Other cool products include bubble bars (bubble bath with a cookie-dough consistency), solid shampoo and bulk sliced soap. The toll-free mail order line is 888.733.5874, and the website is at www.lushcanada.com.
Spa Robe by Telegraph Hill
The beauty of the spa robe versus a regular terry bathrobe is that the spa robe is very lightweight but generally is just as warm and enveloping. Also, spa robes come in pleasing shades of natural and ivory, so it's impossible to screw up and order hot pink. Telegraph Hill sells a few different combed-cotton robe styles as well kimonos made of microfiber. Check out their website at www.telegraphhill.com or call 888.398.7010 to set up a time to visit the shop.
Estate Jewelry: The Real Thing
Estate jewelry retailers are a rare, rare thing, and when you really want to floor someone special on short notice, you'll find it helpful that gemologist Lynne Arkin runs a shop without all of that fussy "by appointment" crap. Lynne's jewels are exquisite antiques from various periods, from Georgian to '40s retro. She has a full gemological lab, so appraisals are a snap. Yeah, new jewelry is nice, but it can look so generic. If your sweetie is a nostalgic, you might want to give a glittering gift that has a little history behind it.
Apriori Antiques, Lynne Arkin Ph.D., G.G., 3484 Sacramento St., 415.440.3000
Nikonos V Underwater Camera
Why would anyone ever need an underwater camera? Well, maybe if you had one you'd start finding excuses to use it. The Nikonos V is as close to a professional SLR camera as they come in the underwater photography game. It offers auto shutter speed if you like, but otherwise it is an old-school manual camera. With a top shutter speed of 1/1000 and a dive-depth of 165 feet, this camera is a super-nifty toy that isn't steeped in high-tech gadgetry. Also, you get a choice of orange or green--love that. The only hitch: the camera body and lens cost about a thousand dollars, even at Wolf Camera.
---
Buy Buy Buy: Tons of stuff to blow your holiday bonus on.

Holy Sh*t! Holy gifts for the truly devout.

Maturation Anxiety: From the thoughtful to the thought-provoking, an eclectic list for those who aren't quite sure if they're ready to make the leap into adulthood.

Multinational New Ideas: Ten big global gift ideas.

Cheap Trips: Gifts for the man (or woman) who has nothing.
---
[ San Francisco | MetroActive Central | Archives ]