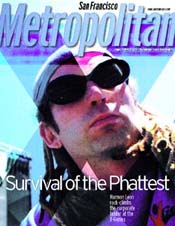 August 2, 1999
Cover: Survival of the Phattest
Harmon Leon rock-climbs the corporate ladder at the X-Games.
House of Cards: House of Cards offers advice on getting involved with co-workers.
Tara's Advice: Tara becomes a muse for a blocked writer.
Frisco Utopia: Hank Hyena suggests doting on senior citizens.



Retro Fashions: How to shop like a swinger before we get back to the Future.



Stained Gloss: Mia Farrow-esque elegance and ink-stained nail polish.
Miss Pinkie Shears: The debonair miss gives her fashion advice.
Concrete Runway: Sue Hagey at Octavia & Oak.
Visual Arts Picks: Reviews of 'Hover: 118th Annual Exhibition,' 'Joe Sorren' and 'Gerardo Suter: Labyrinth of Memory.'



Attack of the 50-Foot Drunk: A Douglas Sirk retrospective opens at the Castro Theater.
Film Picks: Reviews of 'Lágrimas Negras,' 'Instrument: 10 Years With the Band Fuguzi' and 'The Iron Giant.'



Manic Truths: America's rock is gathering moss, while Europe's rolls forward.
Pushy Power: Conceptual sensation Pushy on the meaning of 'poptronica.'
Music Picks: Reviews of the latest CDs by Luscious Jackson, The Beta Band and Los Lobos.
Club Guide: Disco divas, hip-hop connoisseurs and salsa suaves to flannel-clad pinball players, jazz luminaries and more.



The Souffle Also Rises: Spend a romantic night at Cafe Jacqueline.



Metaphysical Missives: A couple is touched by an AOL in 'The Metaphysical Touch.'
Book Picks: Reviews of 'The View From Babylon' and 'The Interpreter of Maladies.'