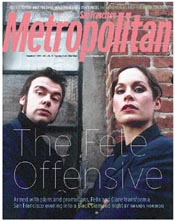 December 7-20, 1998
Features: The Fête Offensive
Armed with plans and promotions, Felix and Clare transform a San Francisco evening into a Black Diamond night.
Scene That: Over the rainbow with the dancing pros at the Metronome.
Tara's Advice: Tara on minnows and lichens.
SFupernatural: Stevee Postman talks about his Tarot deck.
Left Coast Girl: Why everyone's drinking Bud (again).
Adverteasing: The turn-on of a long thick carne asada.
1:15: Gossip columnist C. Silo.



Primary Preoccupation: Local artist Saiman Li talks about his work as a red, yellow, blue or green "color man."
Martini Manicure: The Beauty Bar sets up shop in the Mission.
Superstore: Sephora, the cosmetics supermarket, makes Union Square a one-stop beauty mecca.
Miss Pinkie Shears: The debonair miss gives her fashion advice.
Concrete Runway: Erin Eppstein on Third Street.



Pyramid Scheme: The Prince of Egypt uses the ancient Disney-tested formula of action sequence, Muzak and sassy heroine.
Film Picks: Reviews of Crocodile Tears, Free Tibet and Steam (Hamam: Il Bagno Turco).



Shopping Tastefully: Places to conveniently eat and shop for the holidays in Union Square.
Wine Me, Dine Me: Where have all the warm alcoholic drinks gone?



The 'Zine Scene: The local literary scene satisfies scribes and readers because, face it, size doesn't really matter.
Five Minutes with the Director: An interview with Francis Ford Coppola on the viability of the San Francisco literary scene.
Going Girlhood: Berkeley cartoonist Daniel Clowes vivisects young adulthood in Ghost World.
Book Picks: Reviews of the latest books by Meema Spadola, George Packer and Coerte V.W. Felske.



Charisma and Causes: Rock vocalist Storm Large is bigger than life.
Music Picks: Reviews of the latest CDs by Blood Roses, Dave Ellis and Plaid.
Club Guide: Disco divas, hip-hop connoisseurs and salsa suaves to flannel-clad pinball players, jazz luminaries and more.